Artist Profile: Edvard Munch
by Olessia Kantor
by
The Scream by Edvard Munch sold for 119.9 million dollars, breaking records in 2012. I have been a consistent admirer of Edvard Munch; let me tell you why.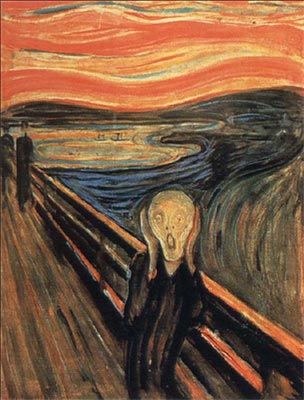 Edward Munch is one of the most influential protagonists of Modernism. His art marks a pinnacle of the fin-de-siècle. In the 1880's he left impressionism, behind as swiftly as he did the naturalism of his teachers and mentors Christian Krohg and Frits Thaulow. Even Munch's encounter with the Paris revolt of the Symbolist avant-garde only prompted his turning away from the external visible world and toward the commotions of the soul. Nothing in Munch's pictures if illustrative, anything anecdotal is eliminated.
Munch's oeuvre straddles between Symbolism and Expressionism. His pictures are expressions of archetypal situations in life. Very quickly Munch developed his own vocabulary: shapes molded into symbol figures of existential sensibilities. It is fundamental human issues- love, death, solitude- which, topical today as ever, are the central themes of his work.
The Albertina exhibition presents Munch's masterpieces of printmaking, many of which are extant in a single copy only, including Munch's most famous subjects such as The Scream, Madonna, The Kiss, and Melancholy. Born out of radical subjectivism, their shapes and colors are crystallizations of personal experience into icons of Modernism.
Under the impression of French printmaking, Munch came to see the potentials of visual condensation summarization, and the expression-heightening simplification of motifs. Munch endeavored not only to explore new themes but to revolutionize artistic production process through experimentation- regardless of academic convention. Like Rembrandt and Goya, Munch counts among those artists whose printmaking oeuvre is equal to their painting.